Musician, Educator, All-Around Good Guy!
Thom Keith was born in Rochester, New Hampshire during the first Nixon administration. He grew up in a home filled with the sounds of Duke Ellington, Count Basie,Coltrane, Walt Dickerson, Air, and David Murray courtesy of a very musical family. At the age of 11, he took up the alto saxophone, later switching to tenor, and still later, bari.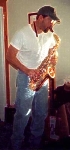 Much schooling and a varied education from the school of life lead him into the field of secondary education. Other factors reinvigorated his musical pursuits in recent years and his chief hobby has turned into a second career: that of the weekend warrior Jazz musician.
Thom has studied with the likes of Richard Gardzina, Jeff Coffin, and Chel Illingworth.  After a decade in Maine, he has returned to his Southern New Hampshire routes.  From 2003-2011, he could be heard publicly as the host of the Maine Public Broadcasting Network's radio program Prime Cuts.
Thom has previously served on the board of directors of The Maine Jazz Alliance and is the co-founder of Avant Coast, an organization that endeavors to provide opportunities to experience music and art in a way that includes a variety of approaches and points of view.
---
See what the pros have to say.
CADENCE says: